POSTPONED!
Please note that this event has been postponed until after the EU Referendum. The new date will be advertised here as soon as confirmed.
12th May 2016
17.00 – 19.00, followed by a reception
Mary Sumner House
24 Tufton Street
London SW1P 3RB
Launch of the new pamphlet by Dr Andrew Blick.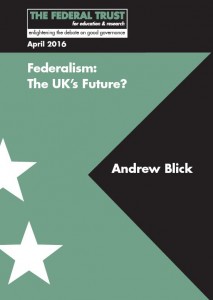 We are pleased to launch the latest pamphlet by our Senior Research Fellow
Dr Andrew Blick (King's College London).  In his pamphlet Andrew proposes a model for a federal UK, discussing in detail what changes would need to be made to the British constitution in order to create a British federal state.
About the pamphlet
The constitutional future of the United Kingdom (UK) is in doubt, and this uncertainty has prompted a remarkable transformation in current British political discourse. In particular, perceived threats to the continuing viability of the system and to the existence of the Union itself have served to return a long-marginalised concept to the mainstream. 'Federalism' is a fashionable idea once more. Yet while federalism is in many ways a British creation, and a British gift to the world, it has not yet come home. It may be, however, that the time is approaching for the British consciously to apply the system they have decided is apt for so many others to themselves.
But what are the basic minimum changes we would need to implement decisively to become a federal state, rather than simply move in a more federal direction? What structure should such a system take? How far would it entail the UK's having to alter its existing constitutional structures, principles and patterns of development? Would it really solve the problems we face? This pamphlet sets out to answer these questions, and proposes a model for a federal UK incorporating a series of English regions as 'states', alongside Wales, Scotland and Northern Ireland.